*** Unfortunately we have to cancel our RFS Cup scheduled for this Sunday :( It is highly unlikely the grounds will be suitable to play on this Sunday given more rain is expected.
All is not lost, we'll be moving the party to The Valley Tavern at Niagara Park from 3:30pm this Sunday. Whilst it's a shame we can't hold the cup, it would be awesome if we could still raise some funds for our local RFS so we will be holding a raffle and collecting donations for Narara Rural Fire Brigade.
There are a number of trial games being scheduled before the season starts and we will be turning some of those into "RFS Games" and collecting money at those games. Details will be released once the games are finalised.
I'd like to send a huge thank you to John Semmens and Michael Paterson for coming up with the idea and planning the event. They are planning on the RFS Cup being an annual event so stay tuned this time next year. ***
⠀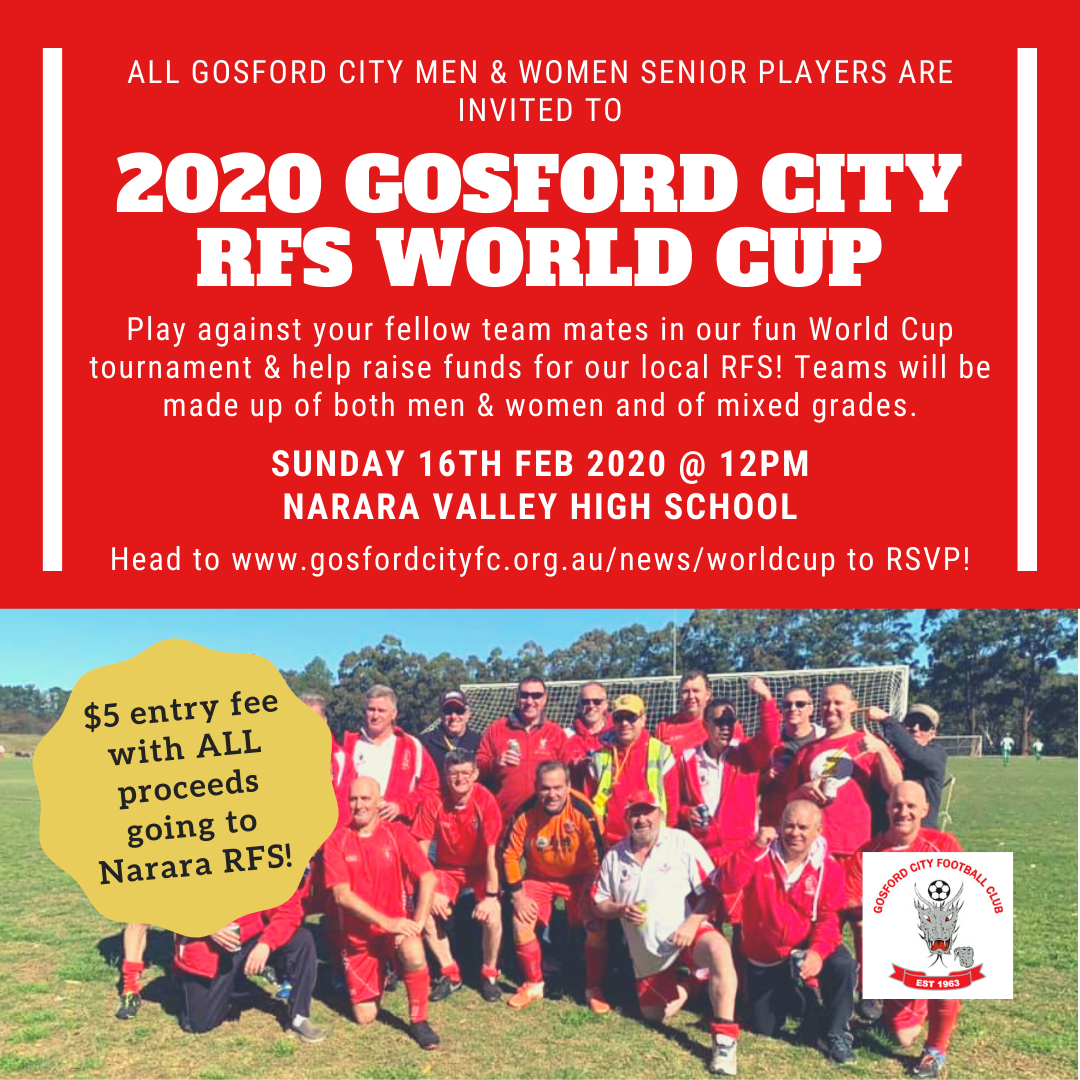 To all of our Men's Division 1, Women's Premier League, Men's & Women's All Age, Under 18s, Over 35's & Over 45's players,
Please join us for our inaugural 2020 Gosford City RFS World Cup!
The 2020 Gosford City RFS World Cup is our very first preseason tournament which will see mates play against mates. Players will be randomly selected in teams and these teams will be mixed as well as consist of players from different grades. So we hope to can join us for a fun afternoon of football and enjoy a preseason kick around with other Gosford City players. We are asking for a $5 entry fee on the day with all proceeds going to Narara RFS!
When: Sunday 16th Feb 2020 @ 12pm
Where: Narara Valley High School
Open to all 2019 Gosford City FC registered senior players and U18's
Players must RSVP to this event below or alternatively you can RSVP by emailing Natalie at This email address is being protected from spambots. You need JavaScript enabled to view it. so we can organise teams and draws.
*** Registrations are now closed! ***
We hope to see you all there!