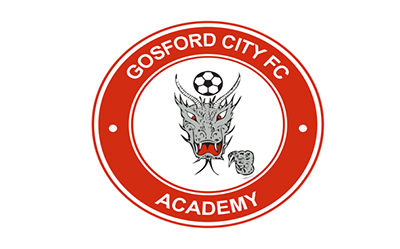 About Gosford FC's Academy
The Academy will comprise of some of Gosford City's most promising players from under 9s, 10s, 11s and 12s who will participate in specialised additional training. These training sessions will run once a week for 20 weeks. Sessions are expected to begin 25th March 2020 and are intended to raise standards, improve skills and attract better players. They will focus on Football Federation Australia's four core skills, which are one vs ones, striking the ball, running with the ball and first touch. Additionally, the Curriculum aims to develop future generations of players and teams that will enable Australia to maintain a leading position in world football, particularly in Asia. Gosford City Football Club intend to do our part to help achieve these aims.
The Academy will form 4 teams, one from each respective age group. Academy players will be placed in a local Gosford Football club team and the teams will play in the local winter Central Coast football competition.
Eligibility

✔ It's FREE to join the Academy.
✔ To be eligible for selection in the Academy, players must be registered with Gosford City Football Club.
✔ To qualify for the Academy, players must go through a selection process over 2 sessions.
Selection Process
To be selected for the Academy you must be a registered Gosford City FC player and attend two Academy Grading sessions.
Academy Grading will be held at Narara Valley High School on:
Under 9: Thurs 20th Feb 5pm-6pm & Sunday 23rd Feb 9am-10am

Under 10: Thurs 20th Feb 6pm-7pm & Sunday 23rd Feb 10am-11am

Under 11: Tues 18th Feb 5pm-6pm & Sunday 23rd Feb 11am-12pm

Under 12: Tues 18th Feb 6pm-7pm & Tues 25th Feb 5pm-6pm
Academy Coaches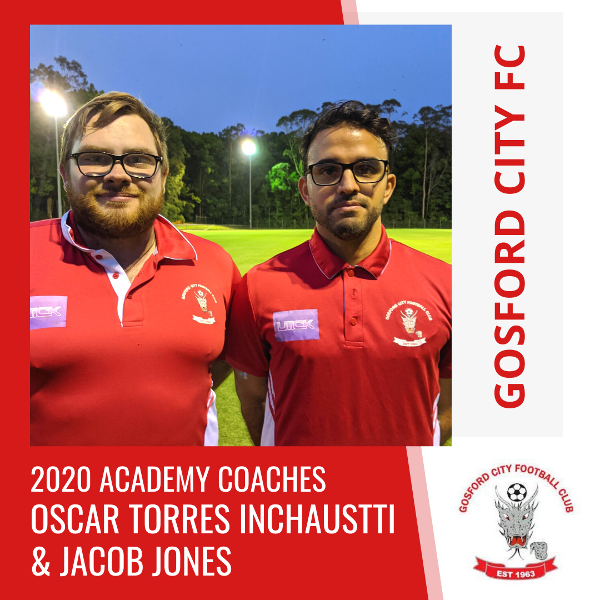 We are delighted to announce our Gosford City FC Academy Coaches for the 2020 season are Oscar Torres Inchaustti and Jacob Jones. Oscar is a dedicated footballer having played at the highest state level from an early age and recently has been playing an important part for Central Coast United. Jacob Jones who is a passionate coach and footballer that has played at NPL2 level and has multiple community coaching qualifications with a desire to pursue AFC coaching badges. Read more about Oscar and Jacob.
How to Register for Gosford City FC
To register for Gosford City Football Club go to https://www.playfootball.com.au. For more information on registering click HERE.
Need More Info?
For more information regarding Gosford City FC's Academy, please feel free to contact our Club Coach, Dylan Rains on 0425 348 723 or This email address is being protected from spambots. You need JavaScript enabled to view it.
Our Football Academy would not be possible without the generous support of our supporters: